Dave Mirra

BMX/Motocross riding champion Dave Mirra made a cameo guest appearance as himself in the Season 4 (ep.#10) episode of "GL" titled "A Clear and Presentless Danger".
Basic Information
Birthname
David Michael Mirra
Born
April 4, 1974
Birthplace:
Chittenango, NY, U.S.
Died
February 4, 2016
(aged 41)
Deathplace:
Greenville, N.C., U.S.
Gender
Male
Occupation:
BMX freestyle rider, Rally and rallycross driver
Years Active:
1987-2011
Website/URL:
http://www.davemirra.com
Family/Personal Information
Character Information
Involved with/Appeared on:
George Lopez (TV series)
Episodes involved with
Appeared in:
Appeared as himself "A Clear and Presentless Danger" in Season 4 in cameo guest appearance
Dave Mirra (April 4, 1974 - February 4, 2016) guest starred on George Lopez as himself in the Season Four episode "A Clear and Presentless Danger" (episode #10).
Dave was an American BMX freestyle rider, rallycross driver and rally driver who later competed in motocross racing. featured in the video games Colin McRae DiRT 2 and DiRT Rally.
Career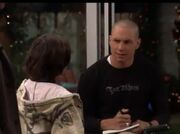 While still living in Chittenango, New York, where he was born and raised, Mirra joined the Haro Bikes BMX team in 1987, at the age of 13. Video producers Plywood Hoods featured him in their videos in 1988. Mirra gained a sponsorship from Vision Street Wear in 1989.[1] He was also sponsored by GT Bicycles through 1991, and then joined Hoffman Bikes in 1992.[1]
Mirra turned professional in 1992. He won a medal at the X Games in every year from 1995 through 2009, with the exception of 2006.[2] He won 24 medals at the X Games which stood as a record until 2013.[3] He tied Tony Hawk and Joe Parsons as the fastest to reach 14 X Games medals.[1] In 2005, Mirra won the Best Male Action Sports Athlete ESPY Award.[4] His 14 gold medals are second-most to Shaun White.[5] He retired from BMX riding in 2011.[1]
Personal life and death
Mirra and his wife, Lauren, had two daughters.[3][6] Mirra contracted bacterial meningitis in 2010. He recovered before resuming rallying.
On February 4, 2016, Mirra tragically died from an apparent self-inflicted gunshot wound in Greenville, NC.[7] Authorities responded to a reported suicide and discovered his body in a truck.[8] He had reportedly been visiting friends in the area. Allen Thomas, the mayor of Greenville, called Mirra "a great friend and wonderful human being".[1] Mirra was 41 years old.[3][9]
Mirra was posthumously diagnosed with chronic traumatic encephalopathy (CTE). In addition to the "countless" concussions he suffered during his career, his skull was fractured when he was hit by a car at 19 years old and he took up boxing after retirement. He became the first action sports star to be diagnosed with the neurodegenerative disease.[10]
From 2008 through 2013, Mirra competed in rallying and rallycross as a member of Subaru Rally Team USA. He had a career-best fourth-place finish during the 2013 Global RallyCross Championship.[1] Mirra became interested in Ironman competitions, competing in his first triathlon in March 2013.[3][11] He qualified for the 2014 Ironman 70.3 World Championship.[5]
References
↑ 1.0 1.1 1.2 1.3 1.4 1.5 X Games icon Dave Mirra, 41, dead of apparent self-inflicted gunshot. espn.com (February 5, 2016). Retrieved on February 5, 2016.
↑ Castleberry, Tony (February 4, 2016). Dave Mirra dead. The Daily Reflector. Archived from the original on February 6, 2016. Retrieved on February 5, 2016.
↑ 3.0 3.1 3.2 3.3 Los Angeles Times (February 4, 2016). BMX and X Games star Dave Mirra dies at 41 in apparent suicide. latimes.com. Retrieved on February 5, 2016.
↑ Dave Mirra Takes Home ESPY for Best Male Action Sports Athlete of the Year 07-15-05. Ride BMX (July 15, 2005).
↑ 5.0 5.1 X Games biker and BMX star Dave Mirra dies. Retrieved on February 5, 2016.
↑ Dave Mirra's Wife Lauren & Children. FabWags. Retrieved on February 5, 2016.
↑ Zack. The BMX Legend, Dave Mirra (41) Dies. 8c.co.za. Retrieved on February 5, 2016.
↑ Slotnik, Daniel E.. "David Mirra, BMX Bike Star, Dies in an Apparent Suicide", 2016-02-05.

 

↑ Dave Mirra, BMX icon, found dead in North Carolina. ABC7 Los Angeles. Retrieved on February 5, 2016.
↑ "Doctors: Late BMX legend Mirra had CTE", ESPN.com, May 24, 2016. Retrieved on 24 May 2016.

 

↑ Ryan Wallerson (June 4, 2015). Life after BMX: Dave Mirra's journey to the top of Ironman is underway. Sports Illustrated. Retrieved on February 5, 2016.
External links
Ad blocker interference detected!
Wikia is a free-to-use site that makes money from advertising. We have a modified experience for viewers using ad blockers

Wikia is not accessible if you've made further modifications. Remove the custom ad blocker rule(s) and the page will load as expected.